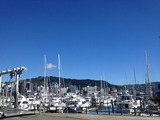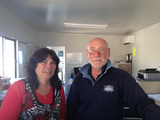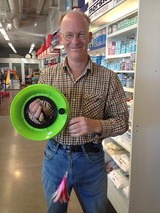 February 86:45 JST
Position:S41°16, E1741°48 (still in the harbor!)
Wind Direction:115°
Wind Speed:3.3kt
Weather:fine!!
まゆこです。
こちらの時間で午前10時半ごろに出航しました。
We left the marina around 10:30am here.
昨日チャンドラーにけんけんを買いに言ったのですが、釣り道具担当のおじさんが部品を全部繋げて作ってくれると言ってくれたので、今日の朝取りにいってきました!カスタムけんけん。値引きまでしてもらって嬉しい!
I went to the chandler to pick up the fishing equipment before we left that
the man who is in charge of fishing equipment told us he would make it for
us when he went there yesterady. Really nice kenken (we call this gear
"kenken" in Japanese).
燃料入れて出国手続き終えたら、マリーナのハーバーマスターのケンと受付のお姉さんにお別れをして出航!
Then after fueling and clearing Customs, we said good bye to the harbor
master Ken and the lady at the office, then left the marina!
ウェリントンいい街でした。
We enjoyed staying in Wellington, nice city!
ホントにいい天気です。久しぶりの海嬉しいな。
What a beautiful day! I'm glad to be out in the sea again.
Mayuko