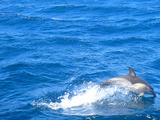 Benruary 9th 6:20am JST
Position:S42°18, E178°23
Heading62:°
Boat Speed:7kt
Wind Direction:5°
Wind Speed:11kt
Weather:fine
Sails:main and jib
Crew:all fine
まゆこです。
昨日は機走を覚悟していましたが、夕方ごろから波が出始め、それに風が続きました。17-22ktの風でしばらく走りました。それほど大量ではありませんが、初日から冷たいスプレーを浴びるのは予想外。よかったことは+2ノット潮に押されたことかな。東寄りだった風は朝方には北に変わり乗り心地はマシなりました。
Although we were ready for sailing with motor, we did not have to. The wave
got bigger and the wind started to blow in the evening, We sailed with
17-22kt wind. We got spray too, not bad as we had on the way from Sydney to
Wellington though. The good thing was that the current pushed us at 2kt.
Eastery shifted to Nothery in the early evening.
イルカがたくさん遊びに来ました。20分くらい一緒に泳いでいきました。去年11月に日本を出てから何度か遭遇してますが、こんなに長く、近くを泳いでくれたのは今回が初めてかな。
A lot of dolphines came to play with us for 20 minutes. We have seen
dolphines several times since we left Japan, but it was the first time they
stayed with us this long and they came this close to us.
波も前からの風もあったのでみんな食欲ないかなーと思いましたが、炊飯器は順調に稼動しています。
I thought crew might not have appetite as the wave was a littl rought, but
we all eat well and the rice coocker is doing its job!
例の彼氏と彼女ですが72時間経つ前に出航してしまったので、一旦水から引き上げ。またタヒチで再度成長を見守ることにします。一旦やめて途中から再開ってのができる製品なのか定かではありませんが!
Since we left Wellington before it past 72hours after I put the boyfriend
and girlfriend in water, we could not see them grow completely. But I'm
gonna put them again in water when I get to Tahiti. I'm not sure if this
product allow us to stop once and restart again though.
ところで昨日は月が出るのが遅かったから星空がとってもきれいでした。
As the moon came late last night, the stars were so beautiful.
Mayuko