さて、2日後に出港が迫りました。ハワイからマリナデルレイです。ロングビーチには直接行かず、まずはマリナデルレイのいつものヤードで整備予定。
We're leaving in two days, from Hawaii to California. We first go to Marina del Rey and maintin the boat at a yard where we always stay, then move the boat to Long Beach, the Transpa start place in July!
さて、みなさん御存じか分かりませんが今一度お知らせいたします。スマポでブログ見ている人は見る機会がないかと思いますが、我が陸上通信隊長の渡辺さんが回航中の位置情報を
google mapsにプロット
し、しかもその日のブログにリンクを張ってくれているのです。11月に日本を出港してからの軌跡が丸見えです。 ぜひこちらもたまにはチェックしてください。
Some of you may already know (those who check our blog on smart phones don't see it though), we plot our position everyday
on Googlemaps
and Watanabe-san, the communication liaison on land, puts a link to the blog article on that day. You can see how we have been sailing at one glance.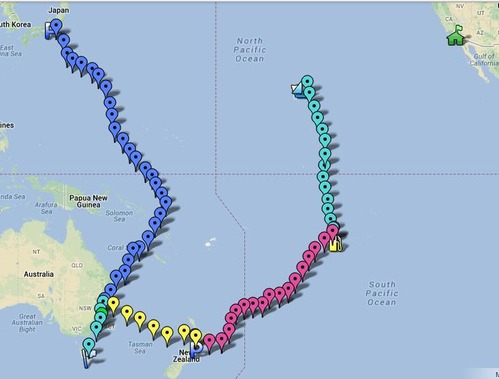 今回のクルーは Crew this time will be...
回航隊長/Delivery Skipper: 
安藤さん/Yasuharu Ando
クルー/Crew: 
もりもりさん/Morimori
、
古川さん/Furukawa
、じんさん/Jin、
まゆこ/Mayuko
です。
※クルー紹介、古いですが2011年当時ブログ記事にリンクはります。
*sorry it's kind of old information, but I put links to the introduction pages in 2011 blog.
では、いつも通り、ブログでのコメントにしか返信できませんが、facebookのコメントは上陸したら読みますので、なんでもコメントお待ちしていまーす。
As always, I only can reply to the comments on this blog, but you still can leave comments on Facebook. I'll read it when I land!
Mayuko