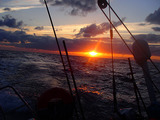 June 14th 5:30am JST
Position:N36°41, W133°22
Boat speed:9.5kt
Heading:75°
Wind speed:12kt
Wind direction:345°
Sails:Main and Jib
Weather:cloudy
昨日の夜から今朝まで11-13ktの風で9-10ktで快適セーリング。ところで、お告
げによると40kt前後北西だとか。まだ先の話なので、予報が変わりますよう
に。。。。
We have sailed at 9-10kt with 11-13kt wind. The weather forecast says we
will have 40kt wind on 17th... I hope the forecast will change by the time.
昨日の夜ご飯は炊き込みごはんと湯豆腐。とっても好評でした。ダシで炊いた豆
腐、玉ねぎ(長ネギがあったらなぁ!)、わかめにポン酢をお好みの量で。みん
なは七味。私は柚子胡椒。柚子胡椒、大好物です。
We had seasoned rice and boiled tofu soup. I'm glad everyone loved it. I
put tofu, onions (I wish we had long onion!), and seaweed in bonito
soup, and pour ponzu (citrus flavored soysauce). Everyone put shichimi
(Japanese red pepper spice). But I put yuzu-kosho (Japanese citrus with
chili), my favorite of favorites.
ところで今年の夏至はいつ?って話になりました。そして、冬至はかぼちゃ食べ
たり、ゆずをお風呂に入れたりするけど、夏至って何するんだっけ?と。
By the way, when is the summer solstice this year? And we were
discussing what we usually do for the summer solstice. We couldn't
remember. We know we eat pumpkins and put yuzu in a bathtub for the
winter solstice.
昨日は久しぶりに夕陽を見ることができました!
The sunset was beautiful last evening. We hadn't seen the sunset for a
while.
Mayuko