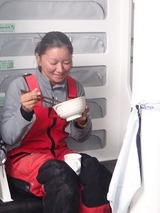 June 16th 5:30am JST
Position:N34°57, W124°39
Heading:85°
Boat Speed:6.5kt
Wind Direction:310°
Wind Speed:14kt
Weather:cloudy
Sails:jib
風がかなりあがってきたので、昨日の日没前にメインダウン。ジブだけで、左右に激しくローリングしながらも8-10ktキープ。頼もしいです。今は風が落ちてきました。次のワッチ交代でメインアップかな?そしてまた明日の朝風があがるみたいです。
We pulled the main down before it got dark yesterday as the wind went up so
strong. Although the boat was rolling so bad as we only sailed with the jib,
we were able to keep 8-10kt boat speed. Now the wind decreased a bit. I gues
we're hoisting the main up again.
ヒールや横揺れが激しいから汁物は食べにくいんだけど、でもあったまるからどうしても汁物はかかせません。どんぶりと汁物を交互に床に置きながら食べたり、と人それぞれスタイルはありますが、私は断然膝に挟む派です。
As the boat heels and rolls so bad, it is hard to have soup for meals,
however, I always try to cook it as it makes us warm. While some people put
a rice bowl and a soup cup on the floor by turn, I hold a soup cup between
my legs and have a bowl in my hand. It's the easiest way for me.
しもやけできたった言ってる人が1名。私も小さい頃から冬のしもやけは欠かせませんが(大人になっても!)、さすがに今回はまだシモヤケできてないです。もりもりさんには負けました。
Morimori got chillblains. I have had one every winter since I was a kid
(even recent years), but I haven't got one this time yet and I don't think I
will under this condition.....still too warm for chillblains.
Mayuko