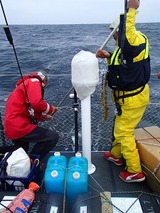 June 17th 5:30am JST
Position:N33°54, W120°21
Boat speed:6.5kt
Heading:95°
Wind speed:13kt
Wind direction:290°
Sails:Main and Jib
Weather:cloudy
昨日の深夜ごろ、残航180マイルを切り、私達的パールレーススタートしまし
た。予報通り風が落ち始めました。どうにもこうにもならなくなったら座長十八
番プロペラ回しに突入予定です。今回はたんまり燃料が余ってるので、というか
むしろレースには積めない量なのでできればがっぽり使いたいところです。
As the forecast says, the wind started to decrease. We will start the
motor when we can't run with sails. Since we still have a plenty of fuel
and we actually want to use most of it as we won't need this amount for
the race, we have to use a lot! Gotta drive at full speed.
さて、San Miguel島の島影も見え始めたところで、ケルプ避けゲーム大会が始ま
りました。ほんと多いです。今日の朝も1本ほそーいのがラダーに引っかかって
たのでボートフックで撤去。海中の栄養が豊富な海域に入ってきたので、鳥やイ
ルカなど動物もちらほら多く見えはじめました。
As we're getting close to the land and see San Miguel Island, the
"avoid-kelp-game" has started. We found a long thin one stuck to the
rudder this morning, and got rid of it with a boat hook.
さて、あとは今日の昼、夜と明日の朝の3食で船上コックの仕事もひとまず終わ
りかな?明日の夜明けとともに入港?という皮算用です。
I guess I only will cook three times, today's lunch and supper, and
tomorrow breakfast? We're hoping that we will arrive right after the
sunrise tomorrow!
あと98マイル~!パールだと駿河湾あたり?かな。
98mile to go!!
Mayuko