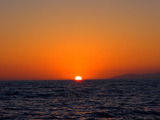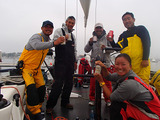 恒例の到着日炊き込みごはんの朝食を取り、準備万端で、カリフォルニア時間、
6月17日9時(日本時間6月18日1時)マリナデルレイに無事到着しました。
We arrived at Marina del Rey at 9am today, June 17th. Yes, we of course
had soysauce seasoned rice as we always have it for the breakfast on the
day of arrival.
写真は昨日の夕陽!ほとんど曇りで夕陽がきれいな日なんてないレグだったけ
ど、沈んで行く太陽もきれいだったし、沈んだあとの空もながーい時間すごくき
れいだったので、、、終わり良ければ全て良し!
The sunset last evening was amazing. We barely saw beautiful sunset in
this leg as the sky was always covered with a lot of clouds. However,
I'm happy as we could see the beautiful sunset and the amazing color of
the sky afterwards in the end.
今年も、前回と同様、スタートまでのマリナデルレイ&ロングビーチでの準備
編、レーススタート後は船からレースクルーによるレース編とハワイからはまゆ
こが応援編をお送りしますので引き続きよろしくおねがいします。
Same as last time, we'll post the article while we are in Marina del Rey
and Long Beach for the race preparation, and after the race starts both
from the boat (race crew will write blog) and from Hawaii (Mayuko).
最後になりましたが、渡辺さん、馬場さん、そしてみなさん、ありがとうござい
ました!
Thank you everyone who follows and supports us!
Mayuko