真夜中シフトの終わりの方にちょっと仮眠させてもらい、起きて少したったら25マイルコールが来ました!
I took a nap in the end of my midnight shift, then right after I woke up, we got 25nm call from Bengal7.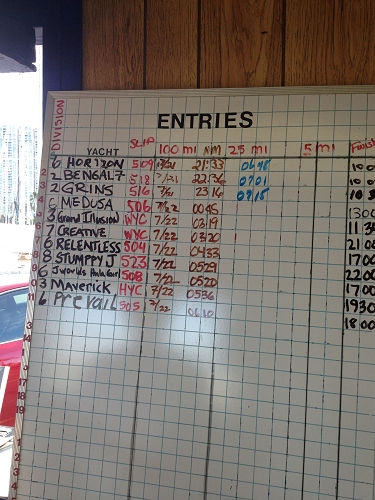 そして7月22日09:44:02、7回目のトランスパックをフィニッシュしました。
Bengal7 finished her 7th Transpac at 09:44:02 on July 22nd.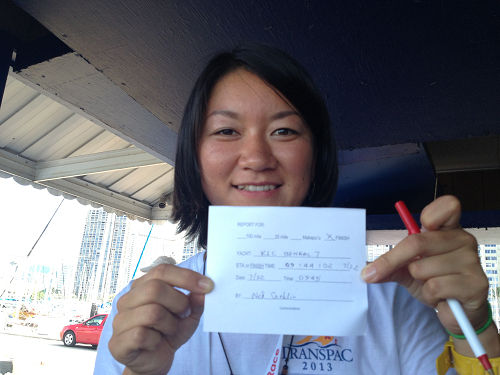 HYCのドックでお出迎え。
We went to HYC to greet the team.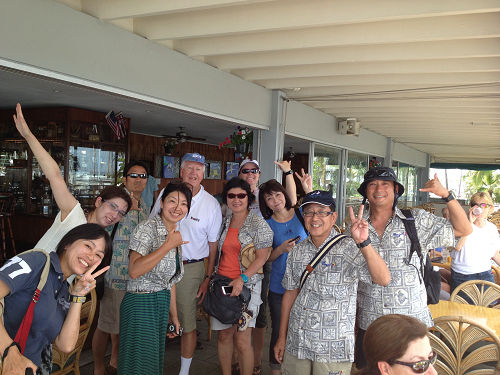 ドックイン。Just docked in!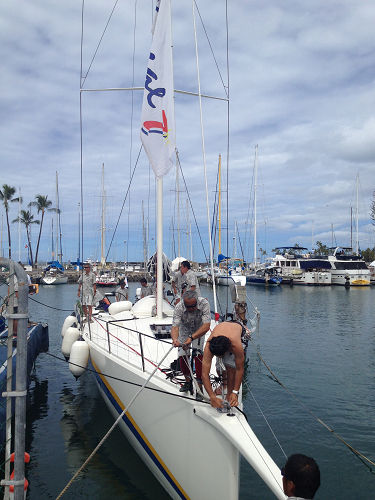 今回のホストのみなさん。Our host Rich in red shirt with maitai (and Colleen who is not in this picture) and their friends.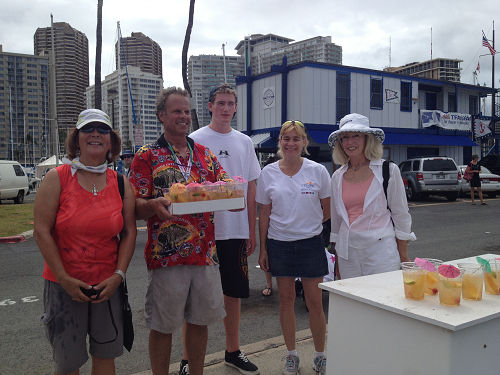 私が2年前、トランスパックで本部ボランティアをしている時に出会い、その時からのつながりで今回Bengalのホストをやりたい!と言ってくれました。ちなみに、私が今滞在しているのもこのホストの船。
I worked with them at the race headquarters two years ago and made friends, and they offered to be a host this time. By the way, I am staying at their boat in Ala Wai now.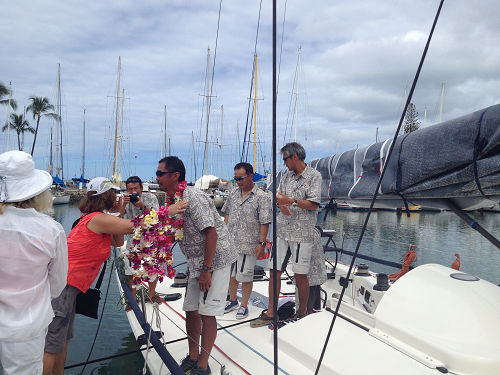 ウェルカムのレイもらって
Getting a welcome lei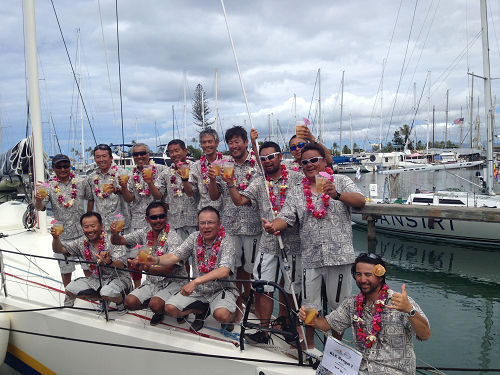 マイタイでかんぱーい!
cheers! with maitai.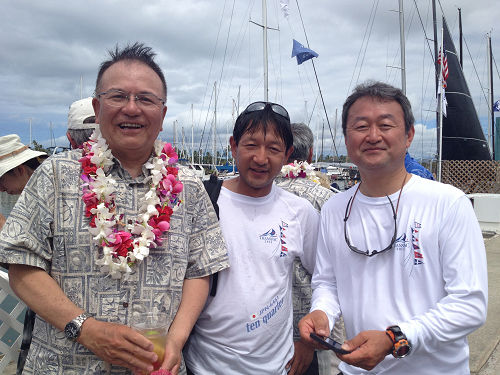 ten quarter、貴帆、Bengal7オーナー3人で。
Bengal7's owner, ten quarter's owner, and KIHO's owner.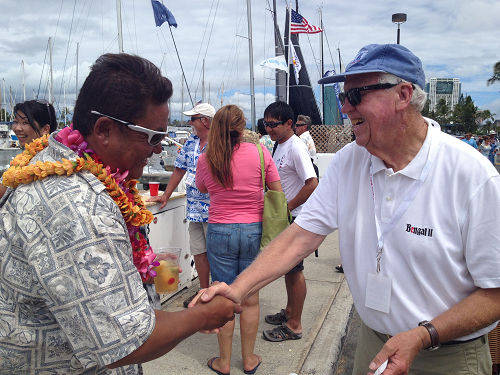 2001年に初出場した時からお世話になっているジェリー。Bengal2のポロシャツ着てきてくれました。嬉しい!
Jerry who has helped us since 2001 when we first participated the Transpac. I'm so happy to see him in our Bengal2 polo that we gave him a long long time ago!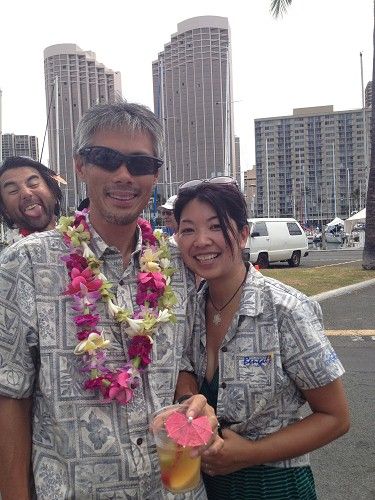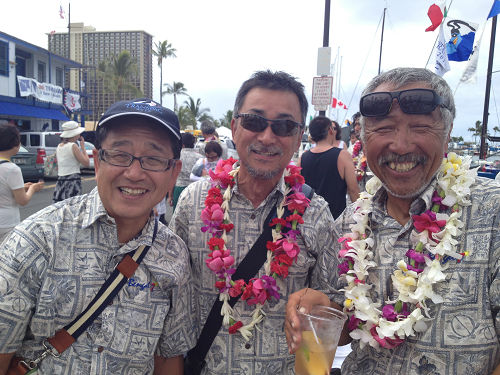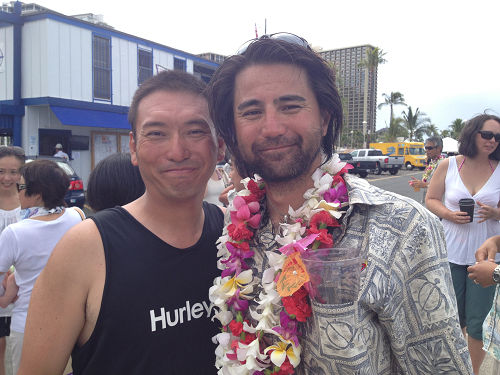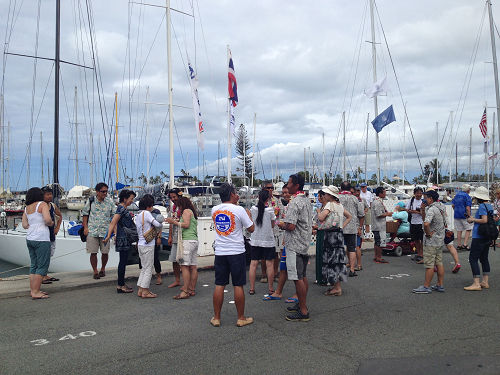 Bengalファミリー以外にも、先にフィニッシュしていた日本チームのみなさんや以前からお世話になっているトランスパック関係者など沢山の人が歓迎してくれました。ありがとうございます!
A lot of people welcomed us! Families and friends of the crew, crew of other Japanese teams which finished earlier, and our Transpac friends! Thank you everyone!
そしてパーティー!Then party party!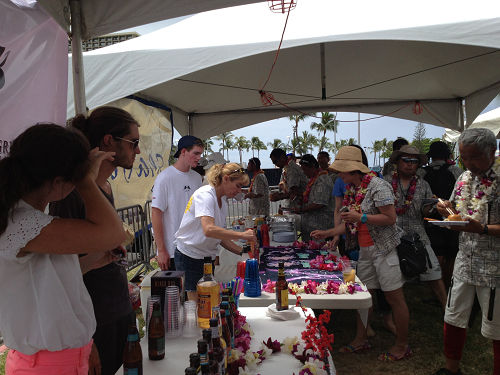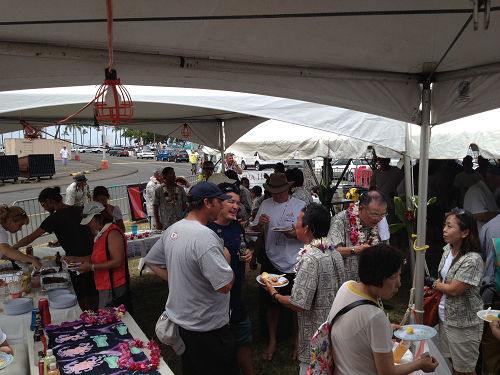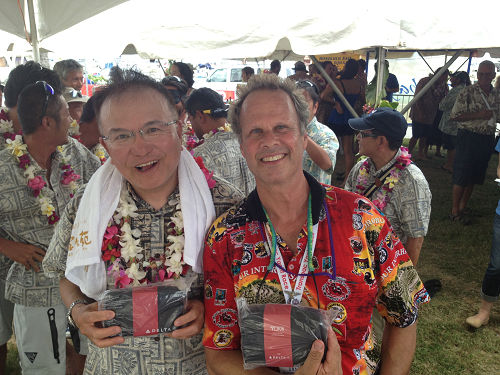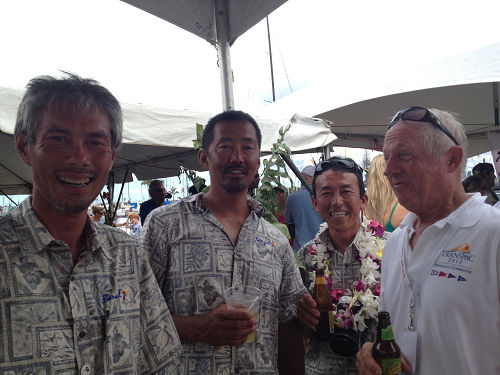 Here's Colleen (with sunglasses), one of our hosts.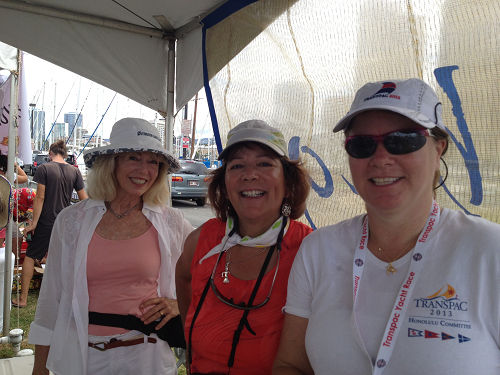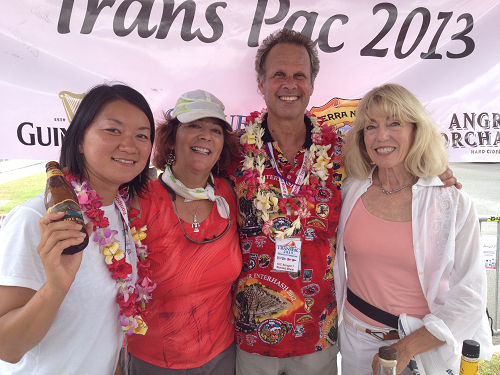 ホストのみなさん、冷たいおしぼり(これ最高!)、冷たいビールとマイタイでの温かい歓迎ありがとうございました。
Thank you Rich, Colleen, and their friends! We really loved your warm welcome with cold oshibori, cold beer, maitai!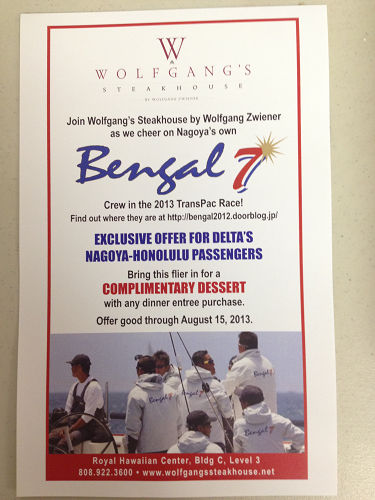 そして、
Wolfgang's
の食事もとっても美味しかったです。スポンサーありがとうございました。
And thank you
Wolfgang's
for the great meal!
同じテントで他にも2つパーティーが盛り上がり中。
There were other two parties going on!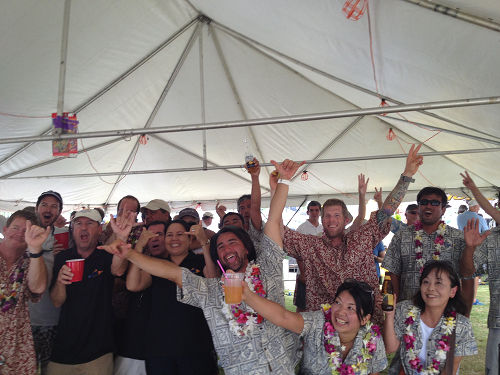 フィニッシュおめでとう&お疲れ様でした!
Well done team!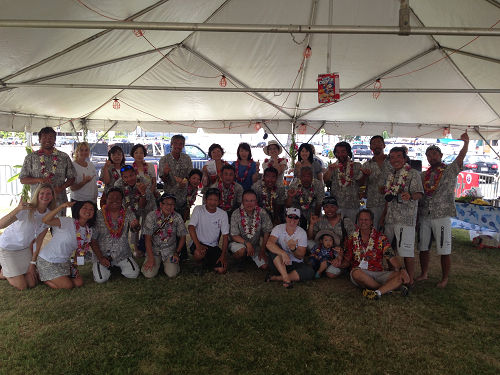 ホスト力作のバウレイと横さん親子。かわいすぎる。
Yoko and his son with the lei which is our host's handmade.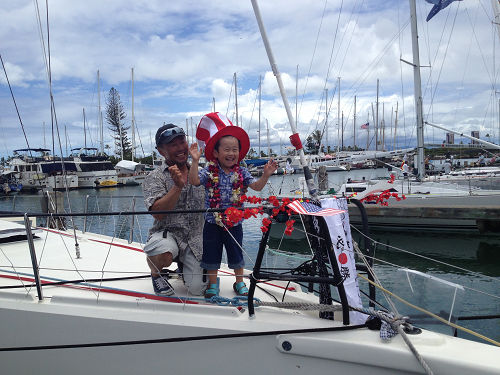 ホテルチェックイン後、GoProで撮ったスタートの様子を確認。かなり惚れ惚れするスタート。
The crew are checking out GoPro movie to see how they started the race. Beautiful start!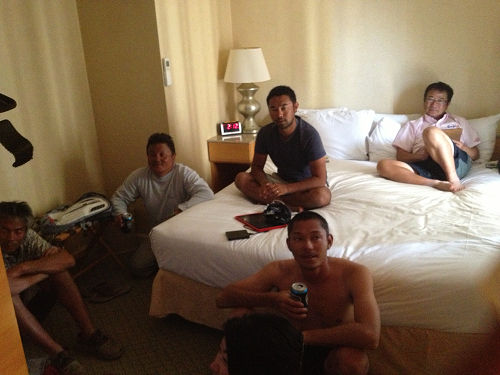 そして、、、、夜。クレセントの応援団、ウェルカムパーティーの準備万端。
After midnight, Crescent support team is all ready for the party.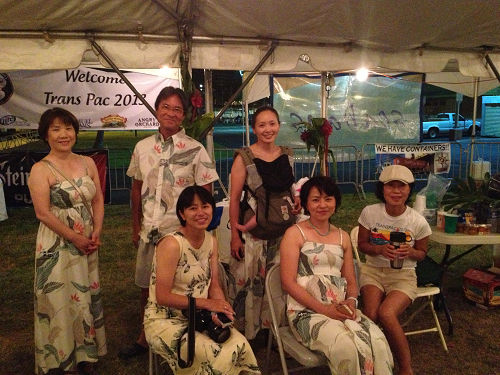 23:25に25マイルコール来てから長かった。2時にマカプウ(5マイル)コール、なんとフィニッシュしたのが4時49分。風がなくなって、5マイル走るのに約3時間。途中逆走(というか流される)場面もあったとか。
It took sooo long after we got their 25nm at 23:25. They finished the race at 4:49am after they made Makapu'u call at 2am. Almost three hours to sail only 5nm!! Un believable! I heard they even were drifiting back 1 mile away from the finish.....
ということで今からHYCにお迎え行ってきまーす!
Well, I'm heading to HYC to see Crescent come into the channel!
Mayuko