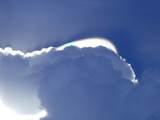 August 23rd 6:00am JST
Position:N28°54, E140°54
Boat speed:5.5kt
Heading:340°
Wind speed:6.3kt
Wind direction:295°
Sails:main and motor
Weather:clear
まゆこです。
伊良湖のブイまで400マイルを切りました。このペースだと25日明るいうち
は厳しそう!ですが、まだまだわかりません。前線通過による南西20ノット期
待したいところです。
Less than 400nm to Irago buoy.If we keep going at this pace, we won't be
able to arrive before the sunset on 25th. But who knows? I hope we can
catch the SW 20kt that a front will bring.
昨日おっきな雨雲が迫ってくるときに、かなり上空、太陽の隣の雲から虹色の光
が漏れていました。写真だと少し見にくいですが。きれいだったけど、一緒に来
た雨雲が超でかくて黒かったので、とんでもない突風現象でも起こる前兆なん
じゃないかってビクビクしてたら、なんてことはなくただの雨でした。
We found a cloud with rainbow color ray above the sky near the sun when
big and dark rain clouds were getting close to us. The light was really
beautiful (it's hard to tell from the attached picture though), but
since we'd never seen the light like that and it was beautiful, we were
afraid that sudden gale or something not good might happen. However, we
only had small rain.
ところで、どのレグも到着したら即ビールで乾杯してデッキ上で記念写真って
やってたのに、今回、ビール買うの忘れました。大問題です。
By the way, we always celebrated our arrival with cold beer and took
pictures as soon as we docked in, I forgot to buy beer this time. This
is a big big problem.
前々からケンさんの話に登場していた、愛知県出身でいつもペヤングとご飯を食
べてるケンさんの大学時代の同級生。私の高校のラグビー部の顧問のあの先生だ
ということが発覚。ちなみに、私の高校の同級生とケンさんは前の職場で同僚で
した。世間は狭いです。
Mayuko