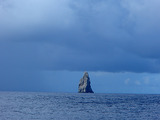 August 24th 6:00am JST
Position:N31°07, E138°47
Boat speed:7.5-8.5kt
Heading:330°
Wind speed:22.5kt
Wind direction:250°
Sails:main and jib
Weather:clear
まゆこです。
久しぶりに吹いてます。お告げ通り西より20ノット強。久しぶりのパンチングと
滝のようなスプレーを受けてます。チャートテーブルにへばりつきながら打って
ます。2年前も到着2日前くらいにドーンと吹いてピューンと到着した気がしま
す。が、今回は風向的にぴゅーんと到着ってわけには行かなさそうです。
We had not had such a wind for a long time. As the forecaster said,
20kt+ blows from West. Big sprays and big punchings that we had
forgotten for a while. I remember we had a big wind 2 days before we
arrived two years ago and sailed so fast to the marina, however it won't
happen as the wind direction is not that good.
昨日ソウフ岩を間近で見ましたー。大海原にいきなしそびえ立つ長細い岩。かっ
こよかったです。虹も出ました。
We passed "Sofu Iwa", kind of a famous rock. It was really cool that a
tall rock suddenly shows up in the middle of ocean with rainbow!
Mayuko