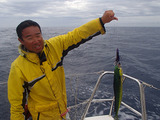 August 25th 6:00am JST
Position:N34°12, E137°23
Boat speed:7kt
Heading:321°
Wind speed:1.3kt
Wind direction:280-310°
Sails:main motor
Weather:raining
まゆこです。
伊良湖 #2ブイまであと28マイル!マリーナ着はお昼過ぎくらいかな。
28nm to Irago #2 buoy! I suppose we will arrive at the marina after lunch.
ちなみに伊良湖水道というときは「イラゴ水道」、伊良湖岬というときは「イラ
コ岬って違うそうです。知らなかった、ずっと「イラゴミサキ」って言ってました。
昨日は日付が変わる頃まで20ノット前後の風でバンバン走ってました。ちなみに、昨
日のブログ書いたあとは、向い潮が6ノット(!!)もあったので進行方向チェン
ジ。ヘディング355°くらいへ。でも潮に押されてCOG 10°くらいで東北の方目指
して走ってました。
We were sailing with 20kt wind till the date changed. Since 6kt current was
flowing toward us, we changed the heading to 355, but COG was actually
10°because of the current and we were actually heading to Tohoku...
かなりのヒールと激しいピッチングの中、調子に乗って朝ごはん野菜炒め作った
ら、ふと気を抜いた瞬間に胃の中から直前に飲んたMt.Dewがカムバック、ヘッド
に駆け込みました。今レグ、リバースはないと思ったのに。。。
I thought I wouldnt get seasick in this leg, so I cooked vegitable
stirfry for breakfast in a big heel and hard pitching. However, right
after I finished cooking, i felt that green water (Mt. Dew) in my
stomach wated come out....I ran into the head as I always did in the past.
さっき起きたらシイラが釣れてましたー!これで、マグロ、ツナ、シイラと私た
ちのケンケン使って釣れそうな魚、全部制覇です!でも今回のシイラは小さかっ
たのでリリース。陸に着いたら、美味しい刺身をもりもり食べようと思います。
When I woke up, Furukawa-san just caught mahimahi! So we cought all the
fishes we were told that we could catch in the out ocean with this
equipment. Tuna, bonito, and mahimahi. Since the mahimahi was too small,
we released it. After we land, I will eat tons of delicious sashimi!
今、冒頭の数字を記入してから30分経過。雨が激しくなり、風速は12ノット、
205度、SOGは9.5。ジブ上げたみたいです。いけー、この調子。
30nimuntes passed after I put the numbers in the beginning. The rain got
heavy, the wind is 12kt and 205°, we are sailing at 9.5kt. It looks like
crew hoisted the jib again. Sailing faster!
Mayuko