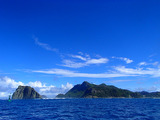 August 22nd 11:20am JST
Position:N27°12, E141°58
Boat speed:5.5kt
Heading:310°
Wind speed:4kt
Wind direction:260°
Sails:main and motor
Weather:clear
まゆこです。
朝8時、予定どおり小笠原父島二見港を出航!昨日の夜居酒屋で知り合ったお姉
さん2人が見送りに来てくれました。嬉しいです。
We left the Futami port in Ogasawara Chichi-jima at 8 in the morning as
we planned. Two ladies we met at a restaurant last night came to see us
off. It's really nice of them.
さて、三河湾入り口の伊良湖No2ブイまであと509マイル。夜ご飯3回で着く
かな。25日に着きたいなぁ。。。クルーそれぞれ都合がいいことがたくさんな
ので、日曜日だと。
Only 509nm to Irago No2 buoy which is at the entrance of our home,
Mikawa Bay. Maybe 3 more supper before we arrive? I hope we can arrive
on 25th. Arriving on Sunday is really convenient to most of us in many
ways....
小笠原滞在中に、ケンさんは日本出航前にも利用していた蒲郡の定宿、亀の井イ
ンを予約するために電話。そしたら、亀の井のみなさん引き続きブログ読んでく
れてるみたいで「今、小笠原にいるんですよね?!」って。嬉しいです、ありが
とうございます。
Ken made a hotel reservation at Gamagori while we were in Ogasawara. He
stayed at the same hotel for a long time before we left Japan last year.
People at the hotel knew he was in Ogasawara when Ken called them
yesterday. Yes, they have been following our blog so they knew we were
in Ogasawara. Thank you for following us!
Mayuko